Our Facility
We recently moved and haven't had time to update this page yet. The following information descibes our old studio. The space has changed, but the services haven't. We hope to get updates done soon. Thanks for your patience.
Our facility is on the second floor of a rehabilitated warehouse in Northeast Minneapolis. Studio space, classroom, member's gallery and office are all housed in a 7200 square foot room in the middle of the building. The room features 12 foot high ceilings and huge glass block windows, which give the studio a bright, airy feeling and help facilitate our members' creativity and positive mood.
The Work Area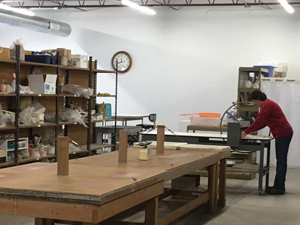 All our members receive 24 hour access, 7 days a week to work. We provide wheels, a slab roller, an extruder, and glazes for our members, and stock a variety of clay for purchase. Each member has their own shelf, rack or semi-private studio to store their work. Racks are also provided greenware and glazed work ready to be fired.
The studio also includes a small lounge area where members can take a break and relax, or eat their lunch. The lounge area is complete with microwave and refrigerator. We even have a small library including various books and back issues of Ceramics Monthly and Clay Times.
The classroom is sectioned off from the main work area and member storage space. This creates a separate space so classes won't interfere with members who wish to work while classes are in session.
Kilns & Equipment
We have 4 electric kilns that we use to bisque and glaze fire our members' work.
Bisque Firing (Cone 06)
We bisque fire on a daily basis in order to move our members' work through the process as quickly and safely as possible. Our bisque firing program takes approximately 18 hours, allowing our members' work to be fired as safely as possible.
Glaze Firing (Cone 6 and Cone 10)
We currently offer glaze firing to cone 6 and cone 10 in our electric kilns. Both Cone 6 and Cone 10 glaze firings are loaded every Monday, as long as we have enough work ready to fill the kiln. Extra firings at either temperature are added as needed. Our firing schedule is posted on our Events Calendar, and we post to Twitter and Instagram when we load and unload glaze kilns.
Equipment
Communal equipment located in the main work area includes: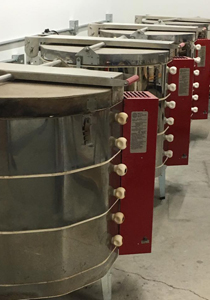 2 - Brent CXC electric wheels (both can be reversed for left-handed throwers)
4 - Brent C electric wheels
2 - Pacific 400 electric wheels
Thomas Stuart kick wheel
Brent kick wheel
Treadle wheel
Bailey slab roller
Northstar extruder with solid & hollow-form dies
Large wedging table
Separate porcelain wedging table
Ware boards, plastic wrapping, water buckets
2 Spray booths in the glazing area
Additional electric wheels are available for member use in the classroom when classes are not in session.
The Members' Gallery
Fired Up members have the opportunity to display their work for sale in our gallery. The gallery is open to the public 5 days a week during our office hours.