Intermediate Pottery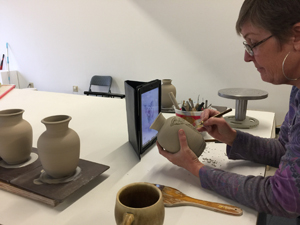 Due to Covid-19 recommendations from the State and CDC, we have suspended all classes. We currently do not know when classes will resume. The health and safely of our staff, members, and students must be considered in determining if and when we hold classes again.
If you know how to throw a bowl and a cylinder and are ready to make more advanced forms, our eight week Intermediate Pottery class is for you.
Expand your vocabulary of forms and throwing techniques in this intermediate pottery throwing class. You will learn traditional techniques as well as current wheel thrown and altered approaches. This class is welcome to students who have had a few wheel throwing classes or experienced potters looking to build upon their current skills. You will discuss design, utility, and expression in the balance of the finished piece. A few examples of class projects include teapots, large bottles and plates, cups with handles, and faceted bowls. On the last day of class you will cover glaze application, such as dipping, pouring, and spraying, and the use of stains and under glazes.
The class will meet once a week for 2½ hours. Included in the cost is 25 lbs. of clay, limited glaze firing, and open studio time during our office hours to practice what you are learning. Fired Up Studios will have some tools available for use during class, but you will need to bring bats and bat pins.
Class Size: Minimum 6 / Maximum 10
Intermediate Pottery Class Rates **
Since this is an intermediate throwing class, Fired Up Studios expects that most students will need more clay and firing space than we provide. Since we do not wish to restrict how much work you can make, we allow you to make as much as you would like for an additional fee. Please note that large items will cost extra to fire.
Possible Additional Fees **
Clay: $18 per 25 lb. bag
Glaze Firing (Cone 6 or 10)
Base Rate: $12 per square foot
Maximum size: 2 feet in any dimension
Add $5 per item over 9" tall but under 12" tall
Add $10 per item over 12" wide/tall but under 18" wide/tall
Add $15 per item over 18" wide/tall but under 24" wide/tall
Stuffers (items under 3" in any dimension): 1/4 square allowed at no additional fee. Add $1 per additional 1/4 square.
Schedule **
We do not have any Intermediate Pottery Classes scheduled at this time. Please check with one of the Metro Area Art Centers that offer advanced instruction.
If you have questions, please call us at 612-852-2787.
Restrictions/Rules
Classes are adults only (18+)
The class cost must be paid in full when you register.
Wear clothes that you can get dirty, this includes shoes.
Review our Classroom Rules and Responsibilities
Cancellation Policy
If you cancel:

1 week prior to the 1st class session, you will be refunded for the class fee minus a $50 administration fee.
If you cancel before the 2nd class session, the administration fee increases to $100. The remaining class fee will be refunded to you.
No refunds will be given after the start of the 2nd class session.

If Fired Up Studios cancels the class or you send your registration and the class fills before it is received, you will be given the option of registering for the next Beginning Pottery class or receive a full refund.
* Pottery tools, buckets, and towels are available for you to use while you are enrolled in a class, but are not yours to keep. Please leave your tools at Fired Up Studios for other students to use.
** Class schedules and pricing are subject to change. The listed class rates do not include the online booking fees.