Gallery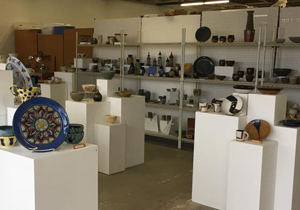 Please note that the Fired Up Studios gallery will remain closed to the public until the state stay-at-home order is lifted and social distancing requirements have been relaxed by the state. Our current plan to open the gallery to the public at the beginning of 2021.
If you are looking for something specific, you might want to contact an artist directly. Member Artists provides contact information for many of our members who display their work in our gallery, while Friend Artists provides links to other local potters, many of whom used to work at Fired Up.
For members, the gallery is a great way to begin selling work with a nominal studio commission rate. If you are currently a member and aren't showing your work in our gallery, stop by the office and find out how you can add your work to the display.
If you would like to be added to our mailing list to receive reminders about our Annual Holiday Open House or other Fired Up Studios events, please sign up for our Email Newsletter.