Studio Membership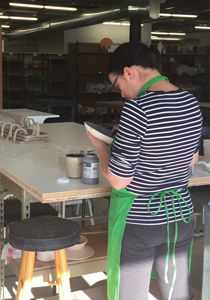 Studio memberships are designed for ceramic artists who need access to equipment and a place to work. Studio members may use any of the communal equipment housed in the main studio.
New and returning members need to set up an appointment. No walk-ins please.
Please note that we have a long waitling list for studio memberships. You can call us or email us to be added to the list. We will contact you to make a studio tour appointment when a space becomes available.
Gift Certificates Available
Introduce your friends to the joys of making pottery. It's the perfect gift for someone who has everything.
Call our office at 612-852-2787 to purcahse.
Rates **
The basic monthly rate includes one-third of a rack (one full shelf plus 1/3 of the top and bottom shelves; maximum of three people per rack). You may also rent an entire rack or a semi-private studio space when one becomes available. Semi-private studios are special sections of the studio area that include several racks, a worktable, and space for a wheel. Semi-private studios may be shared by two members.
Monthly Studio Membership Fees
| | | |
| --- | --- | --- |
| One-time Set-up Fee | $50 | new members |
| | $25 | returning members |
| Refundable Key Deposit | $50 | |
| Monthly Membership Fees | $130* | Basic Membership (1/3 of a rack) |
| | $195* | Advanced Membership (1 full rack) |
| | $215* | Shared Semi-Private Studios |
| | $255* | Semi-Private Studios |
Membership pricing will be increasing by $5 across all membership types, effective October 1, 2023.
Glaze Firing (Cone 6 or 10)
Base Rate: $12 per square foot
Maximum size: 2 feet in any dimension
Add $5 per item over 9" tall but under 12" tall
Add $10 per item over 12" wide/tall but under 18" wide/tall
Add $15 per item over 18" wide/tall but under 24" wide/tall
Stuffers (items under 3" in any dimension): 1/4 square allowed at no addtional fee. Add $1 per additional 1/4 square.
Membership Details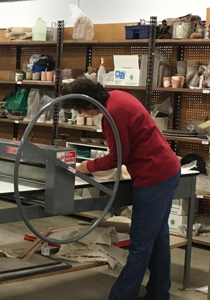 All studio memberships include the following:
24-hour, 7-day-a-week access to main studio and equipment so you can come and go at your convenience.
Cone 06 Bisque firing.
Use of our numerous Cone 6 and 10 glazes and slips (approximately 30 glazes).
24-hour, 7-day-a-week access to our glazes, spray booth, and banding wheels.
Display space in our Gallery (up to 10 pieces, 60% of of your sales is credited to your account on a monthly basis).
Space in our large, well-attended annual holiday open house.
Not Included in Your Membership
We want to be entirely up front about what is and what is not included in a studio membership. The following items will be charged in addition to the monthly membership fee.
Cone 6 and cone 10 glaze firing:

We charge our members for the amount (measured in square feet) of work put through the glaze firings. The maximum size for a piece is 24 inches in any dimension. See above for firing rates.

Clay:

As a convenience for our members, we keep a few types of clay available for purchase in 25 lb. bags.
You may buy your own clay from other sources; however, we recommend you only purchase clay capable of going to cone 6 or 10. Clays that have a maximum firing temperature of less than cone 6 may result in melting if they are place in a cone 10 firing.

Kiln Shelf Accidents:

If you consistently use too much glaze so that your piece sticks to our shelves, you will be charged a minimum of $1 per offending piece. Occasional accidents are permitted; it is only continual offenses that will be fined. These accidents can effect other members work, require our staff to put in extra time cleaning the kiln shelves, and increases the wear and tear on our kiln furniture.
If the clay body you use "melts down," you are charged a minimum of $50 for the damage to the kiln shelf. This is easily avoided: if you are unsure of a clay body's cone rating, do not use it. Remember, clay is cheap.

Tools:

Most of the common tools you will need, you should purchase yourself.

Spray Booth Mask:

If you want to use our glaze spray booth, we request that you wear a respirator that is rated to catch organic vapor. You may purchase these at home improvement stores (they are usually located in the paint aisle).

Studio Access Fee:

A studio access fee of $35 per per person, per day applies if you bring in a guest to the studio whether they are just watching you or helping you work. Adult visitors are welcome to wait in our chat area free of charge.
Membership Requirements
There are a few requirements you must fulfill to become a member at Fired Up Studios:
Fired Up Studios is an adults-only facility. You must be at lest 18 years of age.
You must read and sign our membership agreement. This is a very straight-forward document that outlines our expectations and responsibilities.
You are expected to follow our studio rules. These rules maximize our members' freedom to create while ensuring that this flexibility does not intrude on other members' positive experience at Fired Up Studios.
We require you to allow us to charge your credit card or debit card for any services you use at Fired Up Studios, including membership fees, clay purchases, and firing services. Charges are assessed monthly on the anniversary of your start date.
Unless your are enrolled in one of our classes, you must have taken at least one pottery class outside of high school. You need to know basic skills in order to enjoy the Fired Up experience. Basically, you need to be able to work independently without instruction.
If you use clay or glazes that are not provided at Fired Up Studios, you must guarantee that the clay and glazes you use can be safely fired to cone 6 or 10. Students are required to use clay and glazes provided by Fired Up Studios. All members are responsible for knowing which firing and glazes (cone 6 or 10) will be best for their work.
You must clean up after yourself, leaving all areas you have used clean and ready for the next person.
You must respect other members' work, time and space.

This means allowing others to work without interruption (wait until a person is done at the wheel or speaks to you first). Conversation is encouraged to take place in the "chat area" so you won't disturb someone working.
Cell phone conversations are prohibited in the working area of the studio. You may answer your phone, but then move to the chat area or outside for your conversation.
It is absolutely forbidden to touch anyone's work on any shelf (work shelf, bisque shelf, raw glazed shelf, post-glaze firing shelf) without their direct permission. Touching work displayed in the gallery is acceptable.

We request that you pick up your work (both bisque and finished) in a timely manner (preferably within a week).
** All rates and prices are subject to change. This website may not reflect current prices and rates available in the office.