Gallery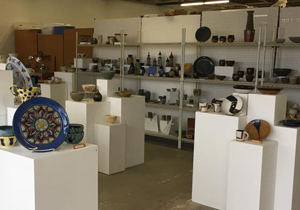 Fired Up maintains a gallery of high-quality ceramic art at very reasonable prices. We have reopend our gallery for the holiday shopping season. The gallery is open to the public on Friday and Saturday afternoons by appointment only.
Due the to concerns with COVID-19, we have had to implement the following rules when visiting our gallery.
Shopping by appointment is prefered. We have limited space and can only allow 4 shoppers at a time. You can stop by without an appointment, but you may be asked to wait in your car or to come back another day if the gallery is full.
Face masks are required. Masks must cover your nose and mouth. If you don't have a mask, you can purchase a disposible one from us for $1.
Please use hand sanitizer.. Pottery loves to be touched, but we cannot wash all the pottery between customers. We will have hand sanitizer available when you enter the gallery. You will be asked to use it.
Practice social distancing. Please remember to say a safe distnace (at least 6 feet) from other shoppers.
We appreciate your compliance with these new rules. You can schedule your appointment on the calendar below. If you are comming with someone, please make sure your appointment is for the correct number of people in your group.
Please note, that we are testing this for the holidays. We will evaluate how this is working before extending the scheulde into 2021.
If you are looking for something specific, you might want to contact an artist directly. Member Artists provides contact information for many of our members who display their work in our gallery, while Friend Artists provides links to other local potters, many of whom used to work at Fired Up.
For members, the gallery is a great way to begin selling work with a nominal studio commission rate. If you are currently a member and aren't showing your work in our gallery, stop by the office and find out how you can add your work to the display.
If you would like to be added to our mailing list to receive reminders about our Annual Holiday Open House or other Fired Up Studios events, please sign up for our Email Newsletter.